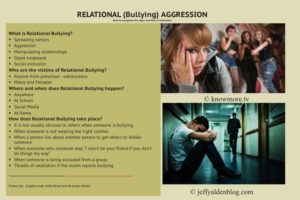 Kelly Read, Angela Leak, Brandon Bader
Relational Bullying is the opposite of physical bullying, yet just as damaging to self-esteem if not more so. The wounds from physical bullying may fade after time but wounds from relational bullying can last for years if not a lifetime. Some examples of relational bullying are peer pressure, gossip, social exclusion and feigning friendship to gain trust of the victim. According to a study by the University of Illinois by Rodkin et al, bullies have been known to either have high self-esteem, or worse, be former victims of bullying themselves (2015). Some of these perpetrators have been marginalized socially themselves, suffer from low self-esteem, and use bullying as a way to take their anguish out on someone else. Additionally, although some bullies come from good homes, just as many come from dysfunctional homes with abusive parents.
With the popularity of the internet, the amount of relational bullying has exploded. Victims are no longer able to escape their bullies by leaving the school and going home, instead the abuse continues at home online. Especially with the widespread use of smartphones now, at times it is inescapable. The abuse has intensified online as well. Perpetrators create Facebook pages for example, inviting peers to trade information about the victim and post pictures, all without permission. This particular method has resulted in countless suicides. Just recently, there was an article on npr.org about the announcement that for girls aged 15-19 suicide is now the #1 cause of death(2015). Although this statistic may not be entirely due to bullying, it is without a doubt it is a large factor.
There are many psychological temperaments that a bully may have. Some of these are: Anger, Depression, and Anxiety. Anger management should be part of teaching children in the no bullying area. Teaching children at a young age, on through adolescence on how to control their anger and even direct it in a more productive way. Anger and aggression are main components of bullying. Depression is common on victims of bullies and in bullies themselves. This area is important because depression leads to suicides, especially in middle-school aged children. Victims of bullies often have depression, therefore these children are the most at-risk. Anxiety is also a component of bullies and of bullied victims. Anxiety can cause students to miss school thus heightening anxiety for having to return and having to face peers and teachers and homework.
The feminist social justice approach is to treat the bullies and the victims the same. Meaning, teach each child the same for the symptoms and psychological aspects as listed above.
We should all be treated the same. The laws in this country allow all children to have a free education and therefore we all have to live together. Approaching the problem of bullying
From a psychological aspect should alleviate the bullying problems we are currently facing.
Preschoolers through adolescence have been bullies. Preschoolers do not have the verbal and cognitive skills to hide it as well as the older children, therefore it is easier to recognize.
As children age, they gain skills in which they could covertly bully other students. Being a victim of a bully also causes children to be rejected by their peers. Not only are they being victimized by the bully, but then rejected by others because they cannot defend themselves, nor will anyone assist the victim. Boys and girls are both equally bullies and victims.
Educators are more focused on physical bullying than relational bullying. Relational bullying is hard to recognize because it can be verbal, silent, on social media, through notes, whatever way the bully can get to the victim. It can be subtle, for example, "You can't sit with us at lunch today." or "You can't be friends with us today." The child would be alienated from their 'normal' group of friends. There is no evidence of this behavior and of course the bully will not admit it. Educators would not easily recognize this unless it is self-reported. By being aware of their students and care monitoring of these students, being able to identify bullies and victims would become more prevalent. Adults, though, typically ignore this type of bullying and disregard it as, oh, boys will be boys, or those girls always stay together.
To combat this, educators need to be aware of the subtle signs of relational bullying and not rely on the victim to speak out. Schools might even need to look into support staffs that are IT savvy who will take on the responsibility of monitoring social networking for signs of trouble. Schools could also have anonymous ways of reporting harassment for those who want to report instances of relational bullying. As bullying has evolved, methods to combat them need to evolve as well. Educators as well as administrators and staff need to think outside the box so to speak. Obviously we will never be able to eradicate peer to peer relational bullying completely, but we can at least try.
Works Cited
http://www.cdc.gov/violenceprevention/pub/youth_suicide.html
http://www.stopbullying.gov/what-is-bullying/definition/index.html
http://nobullying.com/relational-bullying/
http://www.npr.org/sections/goatsandsoda/2015/06/02/409731413/suicide-no-1-cause-of-death-for-older-teen-girls
Rodkin, P. C., Espelage, D. L., & Hanish, L. D. (2015). A relational framework for understanding bullying: Developmental antecedents and outcomes. American Psychologist, 70(4), 311-321. doi:10.1037/a0038658