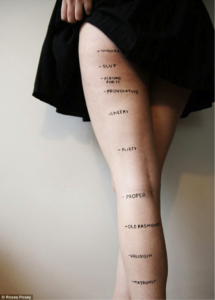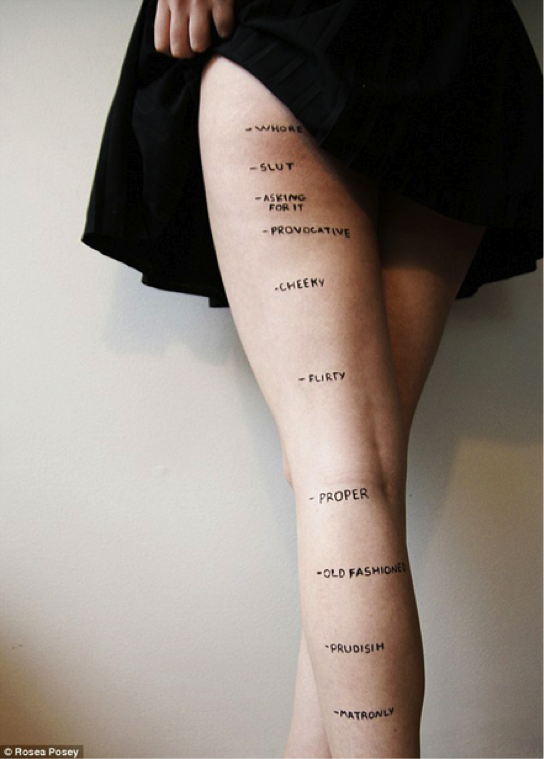 Prude vs. Slut
It seems that these two words would be considered on the opposite ends of a certain spectrum; however, society does not allow it to be this way. Society makes us feel like there is no in between. A woman can be either a slut, or a prude. But who defines these words? Societal views are mostly created from the views of men. Unfortunately, in regards to the words slut and prude, women tend to have a strong opinion as well. It is not just guys' opinions of girls; it is girls' opinions of other girls. As twenty-year-olds in the generation, it is not uncommon to hear girls commenting on the actions of other girls. "She won't put out, that's why he is going to leave her." "Oh my gosh, she is so slutty. She has had sex with every guy on the football team." The sad thing about these circumstances is that there is no happy medium. According to society, you are either a slut or a prude. Both are looked upon as derogatory terms.
Definition of prude according to Webster's Dictionary – a person who is or claims to be easily shocked by matters relating to sex or nudity
Definition of prude according to Urban Dictionary – One who will not engage in any kind of sexual activity with a member of the opposite sex, usually used as a discriminatory word, can be used in a fashion as to bait someone into sexual activity.
Definition of slut according to Webster's Dictionary – a promiscuous woman, prostitute, a saucy girl
Definition of slut according to Urban Dictionary – a woman with the morals of a man,           "Someone who provides a very needed service for the community and sleeps         with everyone, even the guy that has no shot at getting laid and everyone     knows it. She will give him sympathy sex either because someone asked her      to or she just has to have sex with everyone she knows. These are great         people, and without them sex crimes would definitely increase. Thank you  slut, wherever you are."
How do men respond to these words? When hearing the word prude, some men will either stay far away or decide the girl isn't worth the fight. Others will see it as a challenge. Some may even make bets to see if they can get a girl to hook up with them. When hearing the word slut, a guy sees an easy target. A definite cause. If the girl is intoxicated, she will definitely go home with the guy.
We have asked some men to tell us what they think "slut" and "prude" are and we got a few responses back:
"A slut is someone who can f*** the whole world and a prude is someone who won't give it up"
" A slut is a person, male or female, that starts into relationship with the intent of sexual action, sometimes with multiple people, has no intent of commitment but plays the part until becoming bored and leaving to the next, usually destroying not only their life but many others during the process"
" Slut, just in it for the sex and with many partners"
"Prude = Boring"
"A prude is someone who puts themself above others, makes a point of others knowing it and has no sense of standard humor, everything around them wreaks of negativity and they don't typically have many friends due to their attitude"
"A prude would be extremely uncomfortable with sexual contact, rather opposite of a slut, a prude would nearly seem gay but isn't"
"Slut is a girl that will continually sleep with one or many men with no need or want of a relationship not caring who or what she's with…prude is a women that will not give up even if the time is right and everything is going well but let's not mistake prude for class cuz there all in a very fine line slut class prude"
When asked if there is an in-between or simply a girl is a prude or slut responses were:
"Those are the hard to find girls  (neither slut nor prude) most guys look for, they are considered "normal" but since, in some locations they can be quite hard to find, one usually has to settle for less. Normal people are much like old muscle cars. Fewer and fewer every day, as such, the value goes up"
"Yea like I said ur a slut or prude"
When asked if men can also be sluts responses were:
"We call them studs"
"Everyone just assumes slut to be the girl but a lot of dudes are too"
"They call us playas"
There are accepted societal norms when it comes to the attire of a woman. For a professional interview, a short jean skirt is probably not ideal. For a beach party, a long black pencil might get dirty and hot. The same woman may own both of these skirts. Does this mean when wearing the black pencil skirt she is a professional businesswoman who is prude and when wearing the jean skirt she wants sex and is a slut? A girl's attire does not determine who she is. It definitely does not beg for anything.
How does femininity impact this?
A woman should be able to wear what she wants without fear of being labeled. The term "asking for it "should never be applied to a woman just because of how short her attire is. If a woman wants to wear dresses, skirts, heels, she should not have to stand in front of the mirror and ask herself if she is going to be thought of as a "slut", or worry about men thinking she is "easy".
1 supporting course reading
Oppression by Marilyn Frye
This article has a passage in it that goes along very well with our topic of prude vs. slut.  In the article it states:
"It is common in the United states that women, especially younger women, are in a bind where neither sexual activity nor sexual inactivity is all right. If she is heterosexually active, a woman is open to censure and punishment for being loose, unprincipled or a whore. The "punishment" comes in the form of criticism, snide and embarrassing remarks, being treated as an easy lay by men, scorn from her more restrained female friends. She may have to lie to hide her behavior from her parents. She must juggle the risks of unwanted pregnancy and dangerous contraceptives. On the other hand, if she refrains from heterosexual activity, she is fairly constantly harassed by men who try to persuade her into it and pressure her into it and pressure her to "relax" and "let her hair down"; she is threatened with labels like "frigid," "uptight," "man-hater," "bitch," and "cocktease." The same parents who would be disapproving of her sexual activity may be worried by her inactivity because it suggests she is not or will not be popular, or is not sexually normal. She may be charged with lesbianism. If a woman is raped, then if she has been heterosexually active she is subject to the presumption that she liked it (since her activity is presumed to show that she likes sex), and if she has not been heterosexually active, she is subject to the presumption that she liked it (since she is supposedly "repressed and frustrated"). Both heterosexual activity and heterosexual nonactivity are likely to be taken as proof that you wanted to be raped, and hence, of course, weren't really raped at all. You can't win. You are caught in a bind, caught between systematically related pressures."
I totally agree with this passage and believe the author got it spot on.  There is constantly pressure for a woman when it comes to sex.
2nd supporting course reading
The Bluest Eye by Toni Morrison
"Everybody in the world was in a position to give them orders. White women said, "Do this." White children said, "Give me that." White men said, "Come here." Black men said, "Lay down." The only people they need not take orders from were black children and each other. But they took all of that and re-created it in their own image. They ran the houses of white people, and knew it. When white men beat their men, they cleaned up the blood and went home to receive abuse from the victim. They beat their children with one hand and stole from them with the other. The hands that felled trees also cut umbilical cords; the hands that wrung the necks of chickens and butchered hogs also nudged African violets into bloom; the arms that loaded sheaves, bales, and sacks rocked babies into sleep. They patted biscuits into flaky ovals of innocence- and shrouded the dead. They plowed all day and came home to nestle like plums under the limbs of their men. The legs that straddled a mule's back were the same ones that straddled their men's hips. And the difference was all the difference there was (Morrison 138)."
This passage relates to femininity, sex, and race. It really shows how women, particularly black women, were treated the worst. They were at the hands of their white masters wants and orders, and then came home to also get the abuse from their husband. White men had the power, although it is not as bad as it was, this unfair advantage still exists today.
Femininity – Sarah Sitzmann, Alexandra Kahtava, Victoria Grissom, Sarah Kehm