Above + Beyond Cancer Collaboration Fall 2018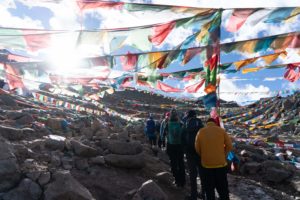 In the fall of 2018 Sandra Patton-Imani and Yasmina Madden team-taught Oral Histories and Life Narratives, an Anthropology and English course focused on oral history interviewing methods and creative non-fiction writing. This is part of a two-year collaboration between Above + Beyond Cancer Foundation, Drake Community Press, and Drake University. Drake students entered into conversation with community members who are cancer survivors and members of the Above + Beyond Cancer Foundation, conducting in-depth life history interviews about their trip to Tibet. This is a digital archive of these survivors' stories for the Des Moines Community, and beyond.
Students collaboratively wrote life stories of their interviewees and present them here in story maps.